Clifton Mount Jamaican Blue Mountain – Peaberry
$35.00 — or subscribe and save up to 20%
The best lots of Blue Mountain coffee are noted for their mild flavour and complete lack of bitterness. Over the past few decades, this coffee has developed a reputation that has made it one of the most expensive and sought-after coffees in the world. Clifton Mountain estate is know for producing exceptional pea berry lots.  This offering is no exception.
EXTREMELY LIMITED SUPPLY
Type:
Single Origin
Degree Of Roast:
City Roast
Certification:
Conventional Coffee
Flavor Intensity:
Medium
Flavor Notes and General Comments:
Jamaican Blue Mountain Coffee refers to a classification of coffee grown in the Blue Mountains of Jamaica.
The Blue Mountains are generally located between Kingston to the south and Port Antonio to the north. Rising to 2,256 metres (7,402 ft), they are some of the highest mountains in the Caribbean. The climate of the region is cool and misty with high rainfall. The soil is rich, with excellent drainage. This combination of climate and soil is considered ideal for coffee. Coffee was introduced to Jamaica in 1728.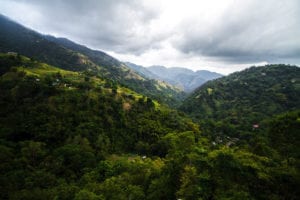 The best lots of Blue Mountain coffee are noted for their mild flavour and complete lack of bitterness. Over the past few decades, this coffee has developed a reputation that has made it one of the most expensive and sought-after coffees in the world. Over 80% of all Jamaican Blue Mountain Coffee is exported to Japan.
Jamaican Blue Mountain Coffee is a globally protected certification mark, meaning only coffee certified by the Jamaica Commodities Regulatory Authority can be labelled as such. It comes from a recognized growing region in the Blue Mountain region of Jamaica, and its cultivation is monitored by the Coffee Industry Board of Jamaica.
As with many other varieties there are peaberry beans which are smaller and have a generally rounder shape. Peaberries generally exhibit a sweeter flavour that further complements the already exquisite flavor of this origin.
Roasted To Order:
Of course. It absolutely has to be. You would never buy stale bread. Why drink stale coffee? Roasted-to-Order means that unless you have purchased it, your coffee has not been roasted. It's just that simple.
Additional information
| | |
| --- | --- |
| Weight | N/A |
| Dimensions | N/A |
| Format | (1/2Lb Bg) |
| Grind | Whole Bean, Coarse Grind, Fine Grind, Espresso Grind |
Only logged in customers who have purchased this product may leave a review.