Subscriptions
A better way to buy coffee
What's so great about coffee Subscriptions?



Coffee subscription sale
For a limited time, Francesco's is offering 25% off and FREE SHIPPING on your first 4 subscription orders.
Once the first 4 orders are complete you can unsubscribe or continue to save up to 20% on coffee that's fresh off the roast.
Coffee Subscriptions are simply a better way to buy coffee. Why?
Well, for a few very good reasons…
We all do it. Go to the website. click on the product. Put in the card numbers and wait for the confirmation message… and for the most part, it works well enough. We're all pretty happy to do just that. But for coffee, at least, there's a better way. It's called a subscription, and it is a more efficient way to purchase coffee. Let's get into it …
Roasted just-in-time and just-for-you…
We all love fresh right? Just-In-Time roasting has long been the holy grail of coffee production. The idea is to never roast coffee until it is sold. Well, At the beginning of each week, we roast all subscriptions and mail them immediately. That means we are roasting to known quantities so your order is literally hours "off-the-roast". If you love fresh coffee, it doesn't get any more fresh. Discover new flavors and experience a level of richness you might not have previously known.
Delivered right to your doorstep…
No fuss, no muss… no traffic, no parking, no standing in line at the cash register. Simply put, no hassle.  Just fresh coffee, on your doorstep. Now that's pretty great huh? We all love finding a neat little package at our door. There's that sense of joy mixed with anticipation and the thought that you didn't have to worry about it. Delicious coffee just appeared. It's a kind of magic…
Save, Save Save and then Save some more!
All of our subscriptions are designed to save you money over the regular price.
20, 15 or 10% over regular online purchases (depending on subscription interval). This is because being able to plan our roasting makes up much more efficient and we can pass the savings on to you. Give it a year… you'll see that it really adds up!
Flat Rate $10 Canadian Shipping!
Shipping fees suck right? Yup, they sure do. So we subsidize the shipping cost so that small Canadian orders are only 10$ but larger orders actually ship for free.
Never Run out of coffee…
You know the feeling. You show up to your coffee machine and the coffee container is empty. That's the worst start to any day…
Make that go away. It's super easy. Just walk over to the cardboard box with a dull knife and you are good to go! Fixed! You have coffee.  You're welcome and we love you too!
You are the BOSS!
You control the subscription. You can  pause, resume, switch products, whatever.
Life is complicated and you can't control it all but at least, when it come to your coffee… you get exactly what you want because you are the boss!
Signing up is easy
Look for the subscription option underneath the price and choose the desired frequency. That's it!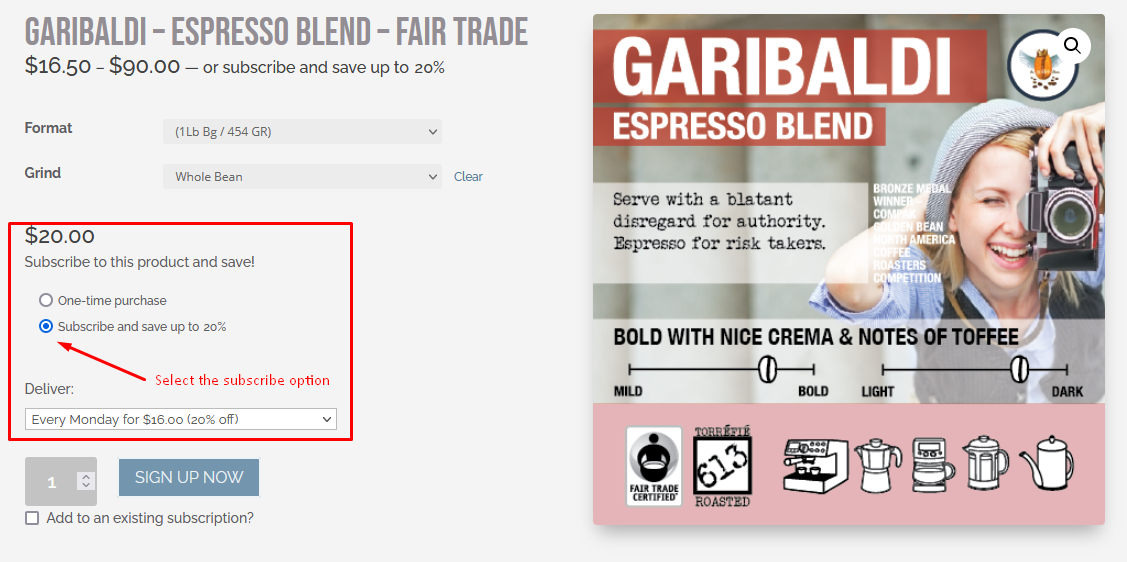 your subscription is waiting for you
Simply select any product and look for the subscription option below the price.
FAQ
Here's a list of some questions that get asked frequently.
"How
We roast twice per week. Generally on Monday and Wednesday. Each Monday, and on the 15th of every month we roast subscription order and send them to their subscribers.
How does Roast-2-Order work?
We wrote software to handle all of the inventory calculations so that we never make more coffee than what is actually ordered.
Sounds complicated? Yes. Worth it? Absolutely!
Can I cancel/change/alter my subscription?
Yes, absolutely, simply log into to your account to make any change you wish t make. Alter the frequency, increase , decrease or cancel your subscription.
What do you mean by Roast-2-Order?
Roast-2-Order means that if you did not order it, we did not roast it. Prior to each roast day we poll each of our customers and then we produce only that quantity of coffee.
Why Does Roast-2-Order Matter
Roast-2-Order m​atters because some very accurate calculations pertaining to yields, ​forecast totals, and available inventory need to be performed to ensure real freshness.  Without those calculations, your coffee simply won't be fresh. We do this in real time at every moment of our roast process and that insures that we only ever make exactly what's ordered.
How long will it take to receive my order?
Your order typically arrives withing a few days, however we reserve the right to take an extra day to do the job well. So if you order on a Monday, you will often receive the order by  Tuesday and definitely by Wednesday.